Data centres are getting larger – and that trend is set to continue. Demands for increased profitability, better operational reliability and environmental concerns are key considerations for data centre design – and these demands have a strong bearing on the design of uninterruptible and backup power supply for data centres. There is much evidence to suggest that state-of-the-art rotary systems are better suited to the needs of modern data centres than traditional battery-based UPS systems.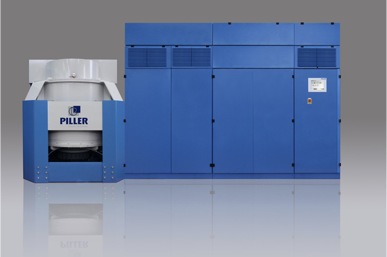 UNIBLOCK UBT+ with POWERBRIDGE PB60+ the world's largest
kinetic energy storage device for UPS applications.
A key benefit of rotary UPS (RUPS) lies in its simplicity. The economic benefits and superior operational reliability of flywheel UPS systems means there is no longer a need to install tons of batteries and, thus, environmentally hazardous metals in data centres.
Static and rotary UPS compared
For a typical 9 MW data centre split into 9 by 1 MW halls, the infrastructure supporting the IT equipment required to provide N+N connectivity, fault tolerance and concurrent maintainability to meet UTI Tier IV standards, is dual chorded and supplied via an A and B UPS system, with each distribution system having a mains supply and a capacity generator bank.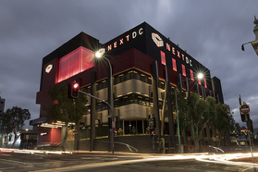 A world first for NEXTDC and Piller – the first certification to Tier IV of an n+1 IP-Bus system.
To meet these same Tier IV classification requirements, the equivalent flywheel solution is simply a rotary UPS with kinetic energy in an IP-Bus configuration, coupled with generators and distributed to the dual chorded IT equipment.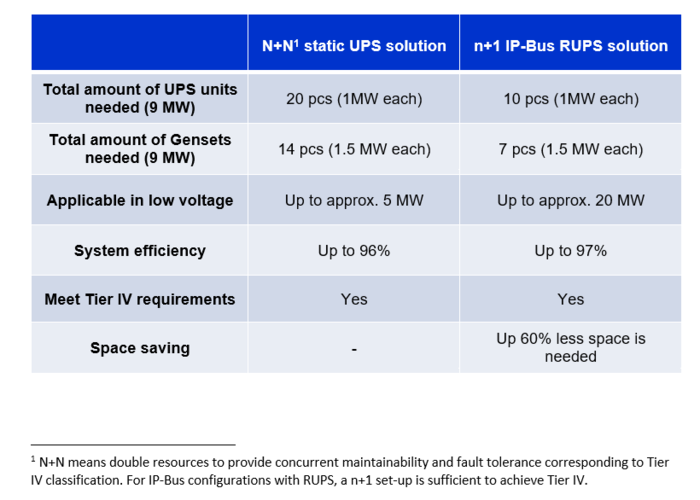 Comparing the Total Cost of Ownership (TCO) of both systems over a period of 20 years – and taking a variety of factors into account, recent customer decisions to install RUPS have been based on lower TCO with OPEX being more than 30% lower compared to leading static alternatives.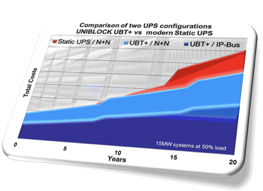 Comparison of Total Cost of Ownership between a traditional UPS system and Piller's UBT+ flywheel system with and without an IP-Bus.
As with all facilities, it is 'white space' rather than power infrastructure which earns revenue. Maximising white space therefore, increases revenue opportunities – just as reducing space required for power infrastructure delivers reduction in building costs. Because flywheel solutions typically require 60% less space than battery solutions there are considerable benefits to the cost/white space balance.
Reliability is also a key consideration. As there is no available database to assess the relative reliability of energy storage devices, evidence is anecdotal but no less valid.
For a maintenance free lead acid battery typically deployed on the Nordic data center market, a 'Mean Time Between Failures' (MTBF) of approximately 150,000 hours can be assumed.
Battery failures can only be prevented by regular maintenance and the installation of battery monitoring systems which measure the voltage of individual cells or blocks of cells so that deviations can be signalled.
Flywheel energy storage devices on the other hand, allow for a more precise calculation of their reliability because the data from their components is almost always known.
MTBF values of up to 3.4 million hours are typical for flywheel energy storage devices. They are, therefore, quite clearly more reliable than batteries and they offer the additional advantage of low maintenance outlay. 
With rotary UPS exhibiting a higher MTBF than the static UPS, an implementation inside an IP-bus topology with flywheel energy storage, provides the best possible power system reliability on the market today.
Flywheel UPS environmental impact
Governments and clients are now paying close attention not only to facilities' environmental impact, but also their sustainability. Where battery systems produce increasing amounts of hazardous waste, flywheels offer a system in which almost the entire product is recyclable. A further environmental disadvantage of battery systems is that they need to be completely replaced up to 3 times over a 20-year life.
Also having in mind that with up to 90% less carbon produced during manufacturing compared to traditional batteries, and with a high operating efficiency of up to 97.2%, a RUPS with flywheel is a natural step towards a greener data centre operation.
With rotary UPS, the power supply cannot only be secured, the installation of the rotary UPS system can also be designed to reuse the heat from the UPS system as has been done for the world's largest Public-Private Partnership hospital in Stockholm, where Piller systems produce winter heating and hot water supply for the entire hospital complex.
The supply comprises two IP-Rings of 24kV, with a capacity of 25MVA (22,5MW).

The new Karolinska Solna is the world's most environmentally friendly University hospital.
For more information about Piller rotary UPS, please contact:
Kristoffer Simonsson
Area Sales Manager, Nordics
Piller Germany GmbH & Co. KG
Kristoffer.simonsson@piller.com
+46 70-537 06 81
About Piller
Piller is a world leader in power protection technology. The company builds electrical systems for mission-critical applications worldwide. Clients include many of the world's central and commercial banks, stock exchanges and other financial institutions, as well as broadcasters, airports, telecommunications networks, government departments and co-location operators.
Founded by the German engineer Anton Piller in 1909, more than a century on Piller is still headquartered and produces in Osterode and nearby Bilshausen, although today the company has subsidiaries across Europe, the Americas, Asia and Australia and today employs approaching 1000 people worldwide. In November 2016, Piller Power Systems Inc, the US subsidiary of Piller Group GmbH, acquired the assets and business of Active Power Inc, the US kinetic energy storage specialist.
Piller group is a division of the UK engineering and industrial group, Langley Holdings plc.