We are all under increasing pressure to reduce energy waste and the associated carbon impact and rightfully so! With today's data centers consuming 30 times more power per square foot than the average office building and with the demand for electricity continuing to grow, putting ever more pressure on supply it is critical that we plan to use our resources more effectively.
That's why the team at ABB really supports Stockholm Data Parks' vision to create a place where the energy is green and excess data center heat isn't wasted.
It's something we've been committed to for years, through the development of ABB's pioneering technology that ensures excess data center heat is used as a positive tool to fight climate change.
Our approach is simple; we design data centers that are greener and allow stronger integration of renewable energy resources. For us, it's a win, win situation – we build efficient data centers where wastage and excess heat can then be used to warm homes across the city and conversely provide operators with free cooling.
We adopt a three-pillar strategy to reducing wastage:
We don't just see energy as electricity. It could also be hot and cold water. We use smart intelligent connections to get heat out and product cooling back to the data center.
We all know that increasing energy demands lead managers to over-plan capacity from the outset. At ABB, we take a different view, by provisioning electrical infrastructure with more industrial thinking. The use of elastic critical infrastructure allows operators to purchase the required amount of capacity from day one, reducing costs and driving energy efficiency.
We also develop more environmentally friendly data centers through deep component visibility. We all know that data centers can be complicated; they include a myriad of devices, from servers to fire extinguishers to cooling equipment, all of which need to be connected. By using industrial protocols that transfer more content and data we minimize the amount of cables and reduce complexity in the architecture.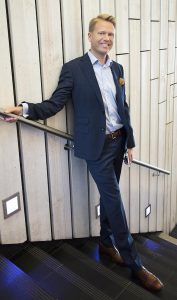 It's this vision and expertize that allows managers to take control of their infrastructure and visualize and control demand from day one.
Our ethos fits with Stockholm Data Parks' aims. We're committed to developing technologies for a 'Better World' and what better way than converting excess data center heat into power for a whole city?  It's the future and we all need to work smarter to make sure that we use our resources more efficiently.
By Henrik Palmgren, Head of Data Center Segment Europe, ABB