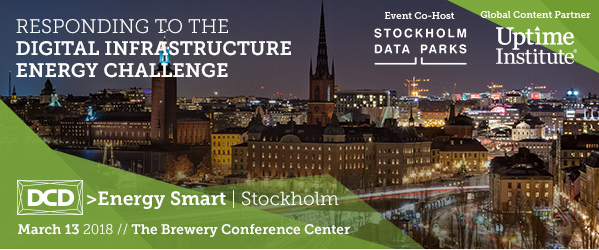 At the DCD>Energy Smart confernce in Stockholm on March 13, two special site visits exploring two paths of building a sustainable city will be arranged for interested participants in the afternoon the day before the conference.
One of the visits will be to Ericsson's new global ICT center where the world's largets heat recovery plant with an initial capacity of 5 MW has been installed, soon to be expanded to 10 MW. At the visit, participants will be guided through the Ericsson data center and the cooling and heat recovery plant.
"Through the adoption of various energy efficiency measures, the data center industry together with the energy utilities can build scalable, flexible, and green data centers which are dynamic in their infrastructure," says Jan Sjögren, head of global ICT centers building operations at Ericsson who will be guiding at the site visit and speaking at the event. "There is a great opportunity for the data center to recycle their waste heat, where we can potentially save on energy cost whilst generating profits as producers."
The other site visit will be at Fortum Värme's new Combined Heat and Power plant. Named KVV8 and recently launched, it is one of the world's largest biomass CHP plants right in the center of Sweden's capital. This facility is at the core of making Stockholm entirely fossil fuel free, together with other initiatives such as the extensive heat recovery and reuse from local data centers in the city. KVV8 has a production capacity of 350 MW heat and 150 MW power from biofuel.
Go to the website of the event, click here
Download the event brochure, click here
To register for this event:
– End Usesr/VIPs/Consultants, click here
– Vendors, click here
If you are interested in taking part in the event as a speaker or sponsor, please contact: merima.dzanic@datacenterdynamics.com
For more information about Stockholm Data Parks:
Erik Rylander
Head of Stockholm Data Parks
Fortum Värme
erik.rylander@fortum.com
+46 70 693 51 84
About Fortum and Fortum Värme
Fortum is a leading Nordic energy company with the vision to be the forerunner in clean energy. The company has around 8,000 employees in the countries along the Baltic rim, Russia and India. Ninety-three percent of Fortum's power generation in the EU is CO2-free. The Swedish associated company Fortum Värme, jointly owned with the City of Stockholm, is the Nordic leader in heat, cooling and heat recovery solutions. The company has more than 10,000 residential and real estate customers relying on its services in the Stockholm area.
About heat recovery and Stockholm Data Parks
Fortum Värme has been promoting heat recovery since 1979, with IBM's data center as the first supplier of excess heat. Starting 2012, the work was intensified and a heat recovery offering and market place named Open District Heating ("Öppen Fjärrvärme") was launched. In 2017, it was decided, in cooperation with the City of Stockholm, grid provider Ellevio and dark fiber operator Stokab, to launch Stockholm Data Parks to encourage major data center operators to locate in Stockholm with a view to performing heat recovery on a large scale. Examples of other data center operators already supplying excess heat to Fortum Värme are Interxion, Ericsson and Bahnhof.
For more information, visit Stockholm Data Parks

You can also follow us on LinkedIn and Twitter: